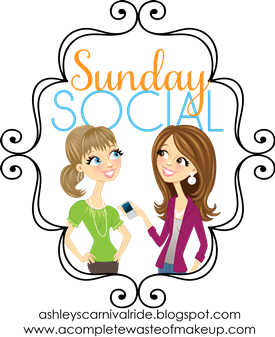 This is a new link up for me! Sunday Social is a link up from Neely over at A Complete Waste of Makeup. Every week, she asks five questions and you give your answer...what could be easier than that!!
Because of certain family happenings, I haven't been able to blog as often as I like to so this week I have two missions: 1. BLOG and 2. WORKOUT everyday (running and/or weights). I am determined to be successful :)
Here is my first edition of Sunday Social
This Weeks Questions:
1. What is your favorite thing about Spring?
Having grown up in a place with actual SEASONS, spring usually means warmer weather and more outdoors time...since Tucson isn't quite like home, I do love the warmer weather, but also the "new beginning" feeling of spring. It's a time to clean house and get ready for summer! I like to go though closets and get rid of stuff that doesn't fit and open the windows and let the sun shine in! (And then usually dust all the crap I see when the sun is shining on it)
2. Favorite kind of flowers to grow or receive?
My favorite flower is the tulip. It's so pretty and was the flower I held at my wedding. I don't grow flowers too much, I only have a "light green" thumb and tend to let things die outside, since I can forget to water them :/
3. What is your favorite nail polish color?
There is no way I could pick just one!! I've always leaned towards pinks and reds since I was growing up, but in my old age, I like to branch out and paint my nails all different colors. I usually change my toes once a week. Currently I have a pretty blue shade with a sparkly topcoat called "Avenue Maintain" and "Stroke of Brilliance" both by Essie, my very favorite brand of nail polish!
So pretty!
4. What is your favorite out door activity?
Running is my very favorite solo outdoor activity (or with Mr. Pea). With the peas, I love to take walks around the block and swim (of course!) when it's warm enough.
5. Do you have any fun Spring plans?
Ummm....not really. Mr. Pea and I have wanted to have a date night for like 3 months, so hopefully we can make that happen soon!! Our back yard needs some SERIOUS love so we will be working on that as well.
What do you love about spring?? Leave me a comment and let me know!